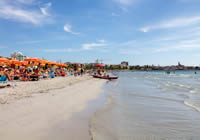 "La Marina" beach in Alghero is modern, equipped with all comforts to make the most of relaxation and entertainment offered by the white sand beach and crystal blue waters.

Our staff offers a very professional service, with particular attention to all those little details that make unique your holiday in Alghero.





A few minutes from the historic center and from touristic port, the beach is easily accessible on foot or by public bus.

You can easily reach it from your hotel or flat in the center of the town or alongside the coast.

Contact us for any information about "La Marina" beach.